Written by Emily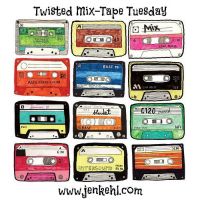 The thunder is rolling outside the window, and gray has descended on the Cape Cods and Saltboxes in our neighborhood. The theme for this week's mix tape is beauty. Although few people would use this dull setting as a foreshadowing of beautiful things to come, but late summer storms bring with them a kind of calm, a quiet that gives me a moment to think. And what better to think about than beauty. As always, thank you, Jen Kehl for the inspiration!
So here it is, beautiful songs mixed with the beat of driving rain on the pavement.
Open Mic Night
I sat in a dive bar for the first time in too long to remember. It was open mic night…not always my favorite. My brother had his mandolin and a few harmonicas shoved in various pockets "just in case." A wheat beer filled a glass too big for me to finish at this stage in my life when a few sips of wine tuck me in for a night. Melancholy singer-songwriter types came to the mic one after another.
And then a woman who could have been 35 or 55 took a seat behind the mic. Her sneakers were worn, and her Miami Heat t-shirt was tucked into her belted stonewashed jeans. She opened her mouth and her raw voice filled the dim bar with a clarity I had never heard at open mic night in our small town. The notes were honest. Nothing forced. She and her guitar were like old friends deep in conversation–easy, familiar, comfortable.
When she was finished, she got a standing ovation that she clearly didn't want. She hid for the rest of the night in the shadows of a hard wooden booth.
I wish she'd get a record deal and become famous, so I can download all of her music and tell everyone about the time I saw her when she was just a lady in worn out sneakers. But that's selfish.
Hearing her that night reminded me that everywhere, nestled in every crevice and crack or pocket of every small town, there is talent and inspiration, not garish or gaudy, but real. Innate. Honest.
It's a thing of beauty.
Claude Debussy–Clair De Lune
I dream of being a refined woman who listens to classical music in her car and has season tickets to the symphony, but the truth is, I have an unpleasant physical and emotional reaction to classical music. I just want it to end. I want words.
I know. I should be asked to leave the Twisted Mix Tape blog hop.
This is my exception. No words necessary.
Laura Veirs –All the Pretty Little Horses
It was late. I could hear the girls' heavy breathing from the back seat. This little lullaby came on, a children's song in a voice that doesn't make me want to gouge my eyes out or leap from my moving vehicle. From the third row, Noah whispered, "Mommy, I think this is the most beautiful song I've ever heard." And then he fell asleep.
A palatable children's song that soothes my little to sleep? Beautiful.
For Noah:
Otis Redding–I've Been Loving You
This man makes me want to slow dance in my kitchen. And sometimes I do.
First Aid Kit–Emmylou
I'm not asking much of you…just sing little darling sing with me…
I know. It's a hodgepodge this week, but that's the thing with beauty. It looks and sounds and feels different than we might expect.