Written by Emily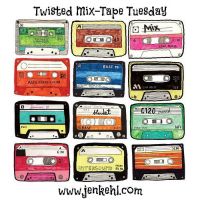 Jen announced the theme: duos and duets, and I had nothing. Total brain snow and static. And then somehow between diaper changes and grocery shopping, dinner and bedtime, a few duets hummed in my ear and a montage from my childhood played: toes in a green shag carpet, the fuzzy pink blooms on our mimosa tree, my body curled in the seat of a faux leather recliner, ethereal white curtains blowing in open windows like a dream.
So that's where I went. I went home.
John Prine and Bonnie Raitt–Angel of Montgomery
Home is Saturday mornings. Mom is clearing the breakfast dishes. A bucket of cleaning water is waiting at her feet. It smells like Pine-sol. There's music. It could have been Harry Chapin or Crosby, Stills, Nash and Young. It could have been Joni Mitchell. Today, though, it's John Prine–his raspy voice is singing me a story, and later when the door to my room is closed, I'll pretend to be a writer while his voice whispers in my ear.
That a duet exists between these two is pure childhood perfection. Not only did I write behind closed doors, I also pushed play on the karaoke player my parents' bought me for Christmas and sang to my reflection in the mirror. I imagined my voice had Bonnie Raitt's soulful depth. It didn't.
Lauryn Hill and Roberta Flack–Killing Me Softly
I was sitting in the rusty blue pick-up truck that was my very first vehicle when I heard Lauryn Hill's rendition of this song. For the first time in my young life, I knew all of the words to a popular song on the radio. I had Roberta Flack's version on a mixed tape, a grainy copy my dad made for me from the record. There in the cab of my truck with it's DIY sunroof and vinyl bench seat, two worlds collided for me. The result of that collision was obviously the trendsetter before you: SAHM to three, typing in her jammies.
John Prine and Iris DeMent–In Spite of Ourselves
A little more from John Prine because I love him. And I love this. And I can barely see with the "big old hearts dancing in [my] eyes".
Bing Crosby and David Bowie–Little Drummer Boy
Bing Crosy is the buttery smooth sound of Christmases when my white tights bunched at my ankles just above my Mary Janes. David Bowie is the strangely sexual villain, Jareth, from my favorite childhood movie. Because Bowie did not wear the white spandex/lycra blend pants from the film, this duet is lovely and not at all weird.
Okay, I'm slobbering into my Carmel Bedtime tea. My nose is running, and I can barely keep my glasses from sliding off of my face. Damn you, Twisted Mix-Tape. I'm stopping at four this time. Memories of my mom's handmade Christmas ornaments is all that I can take…